Baseball Statistics
Applying Collaborative Filtering to Pitcher-Batter matchups
For more technical details, see our project webpage and the project notebook on GitHub.
---
Imagine you're the manager of the Chicago Cubs, trying to win the last game of the World Series. Your best player has just been injured, and you need to pick the best pinch-hitter to replace him for a crucial at-bat. Your last two players, Abe and Bruce, both have identical .250 batting averages. You think, "Maybe one has more success against the opposing pitcher, Charlie," but alas neither of them has ever faced him before!
In the final project for Harvard's Data Science course AC 209 (Fall 2015), our team of 4 developed an approach to solving this problem using collaborative filtering, the same framework used by companies like Netflix to predict whether you will like a movie. In the Netflix model, other users are assigned similarity ratings to you, based on how much you liked the same sets of movies. Netflix makes the assumption that if users who are similar to you liked the new movie in question, then you probably will too!
Our baseball analysis relied on a similar supposition: that we should be able to find sets of "similar" batters to Abe and Bruce, and that those batters' success against Charlie will predict how well Abe and Bruce are likely to do. Just like Netflix finds that some users really like sci-fi movies, we hoped to identify groups of batters who (for example) did well against fastball pitchers, and others who do well against the curve-ball.
My primary contribution to the project was in collecting, cleaning, and distributing a database of player statistics. The key data required was: how many times has each MLB batter faced each MLB pitcher, and how successful were they? While there are neatly curated databases listing all MLB batters and pitchers such as the Lahman Database, the only online database of batter-pitcher matchups is collected in a large series of fairly unstructured HTML pages through retrosheet.org (example page for Sammy Sosa is shown below).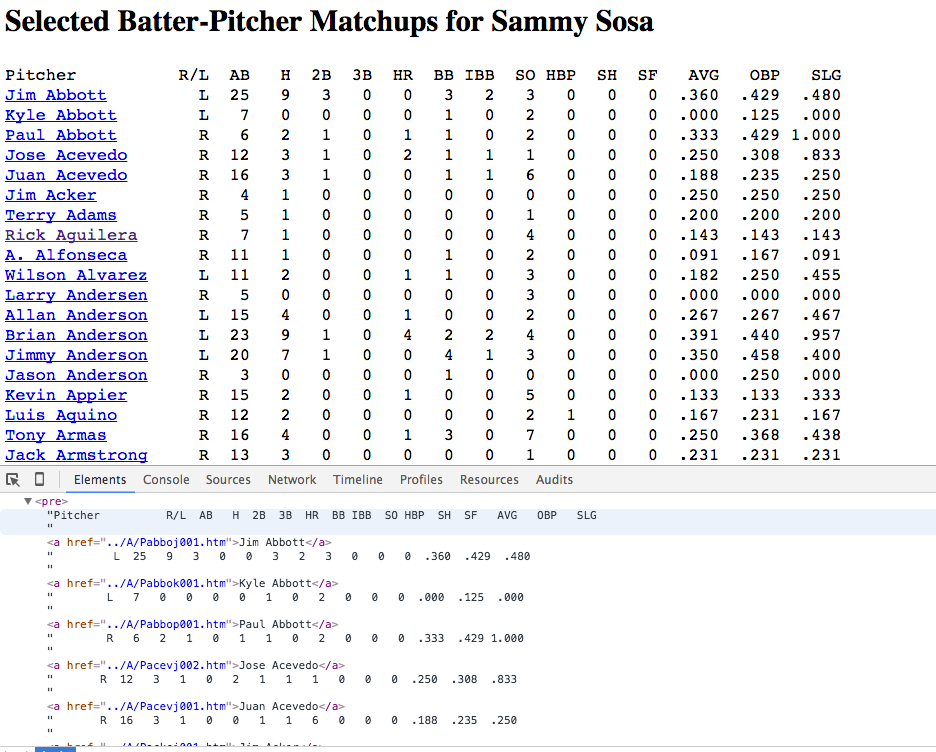 I developed code to crawl the Retrosheet encyclopedia and scrape the matchup data for each MLB player, collecting the HTML data into a Pandas dataframe to be analyzed in Python. Our group then developed a variety of collaborative filtering models and used them to try to predict the success of individual batters against particular pitchers.
Unfortunately, our models were only marginally more successful than using a batter's overall batting average. We suspect that this indicates that a batter's success against various pitchers is primarily due to luck and small-number statistics (most batters hadn't faced a given pitcher more than 10 times), and not to statistically-significant differences in their abilities against that pitcher.