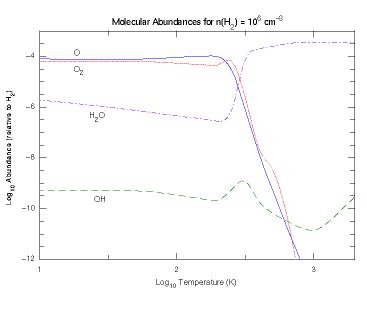 (Figure 3)
However, we currently have little or no information on the abundance of either water or molecular oxygen because the photons of these important species are blocked by the Earth's atmosphere. In contrast, the CO molecule, which can be easily observed from ground based observatories, has been confirmed as an important coolant of the interstellar medium.
One of the primary goals of the SWAS mission is to establish the means by which these clouds cool as they collapse to form stars and planets. Using SWAS, astronomers will observe the emission from H

O, H


O, O

,


CO, and C. All of these species are important coolants in the varied phases of the interstellar medium and therefore are central to the evolution of molecular clouds and the process of star formation.
[Back]