As a research institute of the Smithsonian Institution, the Smithsonian Astrophysical Observatory (SAO) is headquartered in Cambridge, MA, where it is joined with the Harvard College Observatory (HCO) to form the Harvard-Smithsonian Center for Astrophysics (CfA). More than 300 scientists at the CfA are engaged in a broad program of research in astronomy, astrophysics, earth and space sciences, and science education.


Return to the receiver lab homepage.

Here are the latest water vapor images of the Americas,

and of the eastern Pacific (including Hawaii).



Submillimeter Receiver Lab Site Testing
The receiver lab staff operates a site-testing Fourier Transform Spectrometer (FTS) which gathers atmospheric opacity information from a high-altitude (>5000m) site in northern Chile. A description of the instrument and the initial results can be found in this publication. Here is a photo of the FTS container sitting open in the laboratory.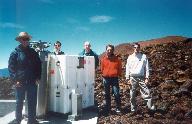 Initial field testing of the instrument took place during Fall 1997 at the SMA site on Mauna Kea. Pictured from left to right are C. Papa, R. Blundell, J. Barrett, S. Radford (NRAO) and S. Paine.
For a period of more than 2 years (October 1997 - December 1999), the FTS was deployed and obtained atmospheric opacity data at the international ALMA site at Chajnantor. Here is a photo of the working system at that time, adjacent to the NRAO site characterization instruments. The Chajnantor data are available at this link.
Here is a portion of the road to the new site.