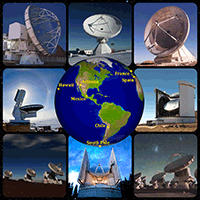 Credit: APEX, IRAM, G. Narayanan,
J. McMahon, JCMT/JAC, S. Hostler, D. Harvey,
ESO/C. Malin
Click here for larger view.
Accommodations
The EHT Collaboration Meeting 2016 Venue
Directions
NOTE: When taking the MBTA from the airport use Bus SL-1 which stops at each terminal and goes to South Station. Get off at South Station and take the Red Line to Alewife Station. Alewife Station is within
walking distance to the hotel
.
Questions/Comments: EHT2016@cfa.harvard.edu